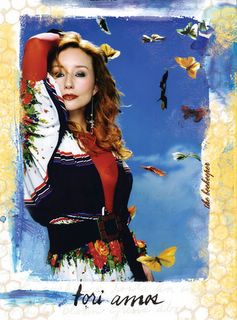 Imagine there's no heaven
It's easy if you try
No hell below us
Above us, only sky
Imagine all the people
Sharing all the world

You may say I'm a dreamer
But I'm not the only one
I hope someday you'll join us
And the world will live as one

OK. That's not Tori Amos. But she did her own version of Lennon and I loved it. Of course she preceded this by My Favorite Things:
Raindrops on roses and whiskers on kittens
Bright copper kettles and warm woolen mittens
Brown paper packages tied up with strings
These are a few of my favorite things

And even that was quite an act.
I wouldn't rate Tori among my most favorite artists, but seeing her perform on those pianos was quite a treat.
OK I have to do Tori some justice. So here's Tori from Jackie's Strength:
Make me laugh
Say you know
What you want
You said we were the real thing
So I show
You some more
And I learn
What black magic can do
Make me laugh
Say you know
You can turn
Me into the real thing
So I show
You some more
And I learn

She also did Horses, Cloud on My Tongue, Josephine, Not the Red Baron, hmmm and some other songs I'm not sure I remember now.
Amazing show.
I'm off to bed :)